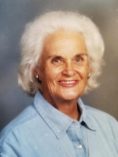 COLORADO SPRINGS, CO—Mary Ellen Chandler Kimball, 90, a longtime resident of Alpine, TX, passed away February 25, 2019, in Colorado Springs, CO, where she had moved to be near family. Mary Ellen was born September 25, 1928 in Abilene, TX and spent her early years on her family's ranch in Terrell County. She attended Sul Ross College where she was active in college rodeo and served as Sun Carnival Princess in 1947. Mary Ellen was inducted into the SRSU Rodeo Hall of Fame in 2011. While at Sul Ross, Mary Ellen met and married Keesey Kimball, an Alpine rancher and businessman. They were married for 51 years, until his death in 2000.
Mary Ellen is survived by her four sons: Keesey Joe (wife Lori) of Belle Fourche, SD; Gary Gene (wife Sandra) of Colorado Springs, CO; Monty Wayne (wife Marina) of Alpine; and Jeffrey Kyle (wife Karen) of Brady, TX; one grandson, five granddaughters, and three great-grandsons. She is also survived by her brother Glynn Chandler of Seminole, TX, cousins Jo Beth Elrod and Charlena Chandler of Odessa/Midland, and numerous nieces and nephews.
During the many years Mary Ellen lived in Alpine, she participated in activities of the Pilot Club, Highland Hereford Association, 4-H Club, and Big Bend Pistol Club. She was also a member of Big Bend Cowboy Church. In her retirement, she resided at Polo Park Estates in Midland, TX and Winslow Court in Colorado Springs, CO, where she enjoyed playing games, visiting with old friends and making new acquaintances.
A memorial service for Mary Ellen will be held Tuesday, March 5, at 10:30 A.M., at Big Bend Cowboy Church in Alpine.
The family requests that memorials be sent to Sul Ross State University, the Marine Military Academy, the Parkinson's Foundation, or Pilot International.
View Original Notice → Mary Ellen Chandler Kimball