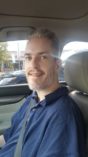 1977 ~ 2018
Thomas William Bittner 41, of Colorado Springs passed away on Tuesday, August 21st. A Celebration of Life Service will be held at 6:00 pm on Saturday, September 1st at The Healing Place Worship Center, 3599 East Bridge Street in Brighton, Colorado with Pastor Joe Sanchez officiating. Arrangements are entrusted to Alternative Cremation Services, Colorado Springs.
Tommy made his earthly debut at home to his parents David L. Bittner and Deborah Ferrell on July 18, 1977 in Thornton, Colorado.
Tommy was a special young man, who loved all his family with a devoted, everlasting love. From the very beginning of life, Tommy had a very special bond with his father and his sister. To Tommy, he had the best Dad and Sister in the whole world and he was always his Dad's best Buddy. His sister Danelle loved, protected and mothered him since they were babies and Tommy loved every moment of it. Tommy found great joy sharing special times, laughing and loving them throughout life.
Tommy's greatest qualities include a kind heart, giving nature, a tremendous sense of humor and a strong adventurous spirit that demanded making his own decisions. Although Tommy's life had many struggles and hurdles, he kept that boy-like giggle and never took life too seriously. He was so unique in his approach to life and he touched the lives around him in a way that only now is realized. You could not know this man without learning a lot about yourself, many times his actions revealed your own flaws. God sent him into our lives as a special gift, a greater gift than we could know, until now. Our great comfort is in the fact that we will see and be with Tommy again, as Tommy came to know the Lord Jesus Christ recently and learned the Word of God.
Tommy is preceded in death by his Grandma Patricia L. Parks, his Uncle Thomas Kent Dunnington, his Aunt Pat Payne and other beloved family members.
Tommy is survived by his Dad, Reverend David Bittner, step-mom Joyce Bittner aka "Mom" from Norman, Oklahoma; sister Danelle Bittner, nephew Isaac Huerta, brother-in-law Roman Huerta all from Denver, Colorado; grandfather Jan Dunnington from Pueblo, Colorado; and a host of greatly loved aunts, uncles and cousins along with positive friends and counselors who helped him along the way.
View Original Notice → Thomas W. Bittner