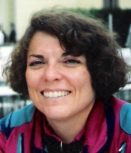 1950 ~ 2018
A celebration of Elaine Waybright's life, February 1950 – March 2018
Elaine Waybright, age 68, died on March 12th, 2018 at New Dawn Memory Care in Colorado Springs, Colorado after a long battle with dementia.
She was born February 1st 1950 in Huntington, West Virginia to Jean Waybright (nee Cropper) and Franklin Waybright. She is survived by me, her husband, Dr. Bo Sandén of Colorado Springs, and her sister, Diane Waybright, of Tucson, Arizona.
Diane describes Elaine as a sweet, happy and loving child, quiet, a good student and a brilliant athlete. She was a gymnast, cheerleader, competitive swimmer and diver as well as the women's champion at the local golf course. Diane remembers her always doing flips and turning cartwheels around the house.
Elaine earned her B.A. from Marshall University in Elementary Education in 1971 and her Masters from the same school in 1975. She taught in Huntington and Barboursville. She liked to tell how it was to work with needy children from an orphanage. At Ona elementary, she taught together with Sharon and Linda, who became her friends for life. Teaching school allowed her to play a lot of golf.
In the 1980s, she got involved with information processing at her mother's travel agency. She soon realized shehad had enough of elementary teaching and earned a master's in Information Systems from Marshall University Graduate College. In 1986 she moved to the Washington, D.C., area. She had found work as an associate staff member at BDM (now TRW), a government contractor in McLean, Virginia, where she designed and developed database systems.
She later became a full-time doctoral student in Information Technology at George Mason University in Fairfax, Virginia,where she also taught undergraduate classes. There she met me. I was then teaching in the Department of Information and Software Systems Engineering. We married on 7 August 1992 and had a townhouse built in Oakton, Virginia. Elaine brought her cocker spaniel, Shadow. Our usual haunt was Nottoway Park nearby. Shadow found the shrubs where tennis balls grew. She got in underneath and always found a ripe one. While living in Oakton, we got a second cocker spaniel, Monty. Ambitiously, we put him through canine good citizen training. It went very well up to his final exam. Then there was no longer any liverwurst, so he saw no point in being obedient.
Elaine graduated in 1994 with a Ph.D. in Information Technology and found work with Litton PRC, another government contractor. She was into weaving at this time. I bought her a Schacht loom and she produced various blankets and other things, many of which we continued to use at home. A loom is quite an impressive machine made mostly out of wood. Through the years, attractive looms remained major conversation pieces in our homes.
In 1996, I got a job as a professor of Computer Science at Colorado Technical University in Colorado Springs and we had to get used to the thin air at 6,000 feet. Only Monty took that in his stride. Elaine managed to stay on with PRC as a process engineer when we moved to Colorado. While living in a townhouse we had rented for a year, we located Rampart Park, where we took our dogs. From the park, an attractive new subdivision, Cypress Ridge, was very visible, and we had a two-level home with walk out built there. Her loom ended up in her upstairs office. Then she got hold of a bigger one second-hand for the large family room downstairs.
In 1999, Elaine got a job as a professor of computer science at Colorado Tech.The school operated on a quarter system, so we taught all year with a 2-week break between quarters. We took advantage of those breaks to explore the West by car, especially the National Parks in Colorado, New Mexico, Utah and Arizona and actually got as far as the Canadian Rockies. Over the Christmas breaks, we always tried to return to Huntington by car. On most of those mid-winter trips the interstate was clear of snow. Elaine really liked driving, and we took turns behind the wheel.
A couple of years later, all Colorado Tech full-time instructors got half a quarter off every school year for professional development. That allowed us to travel to Europe. We would go to Stockholm, where I still owned a little condominium, and traveled from there to Finland, Denmark and Norway mostly by rental car. Elaine enjoyed meeting my relatives and old friends. A couple of times we stopped over in Reykjavik, Iceland.
Usually,we drove to Huntington and left the dogs with Elaine's mother and stepfather, Jim, before continuing to Washington DC from where we flew to Stockholm. Much of Elaine's family then still lived in the Huntington area. There we also saw Elaine's old co-worker Sharon Clay and her husband, Cade, who became my dear friends also. The first few years, I believe Sharon was still teaching at Ona Elementary and always had war stories to tell about people they both knew.
We first noticed Elaine's memory problems around 2006. She continued teaching. In 2011, she got the diagnosis"mild cognitive impairment."Her dementia grew slowly worse.In March 2017 we brought a caregiver into our home six days a week.That way, we managed to take care of her for about year. In the end she needed more professional care, which she got at New Dawn. Sadly, she turned out to be in worse shape than we realized, and lasted there only a week.
View Original Notice → Elaine Waybright